Volleyball Hitting/Setting Lessons Available Now!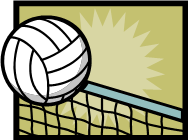 The Du Quoin Health Center is pleased to announce Volleyball Hitting/Setting Lessons. Whether you are a beginner or advanced player, we have training exercises and lessons for you such as proper footwork and placement, jumping and landing, speed shots, second ball attacks, and more!
Spray Tanning Now Available by Lori Eaton!
Proms, weddings, special occasions, vacations, or just because you want a good tan. Safer than traditional tanning beds. Call (618) 542-6680 to schedule an appointment.
Pay Your Monthly Payments Online Now!
The Health Center now uses a secure merchant payment gateway that allows you to setup automatic monthly payments for your Health Center membership. If you are unsure which membership type to choose or need any help with the online payment form, please contact our office at (618) 542-6680.
Du Quoin Recreation Center
The Du Quoin Recreation Center is an over 10,000 sq. ft. facility, which opened in May of 2004 in conjunction with Dr. Robert Eaton's Chiropractic office at 31 S. Mulberry St. in Du Quoin. We have started this website so you can better understand why we feel this is the most complete facility in southern Illinois. Please take a few minutes to navigate the site and see some pictures of the inside.
Rec Center Features
24-hour key card accesses with fully functional surveillance system.
Full basketball court.
Elevated 18 lap mile walking/running track with padded rubber floor.
21 cardio machines (treadmills, stair climbers, stationary bicycles, etc.) with individual televisions on every machine. That means there are 21 different T.V.'s in the cardio section alone.
21 station circuit training program for full body cardiovascular workouts and educational training throughout the week.
Over 1,100 sq. ft. free weight room equipped with more than 2,500 lbs of weights, dumbbells 5-100 lbs, four bench press stations, cable crossover, and too many other activities to list.
We have two children's areas equipped with cable televisions and children's movies, for children over 3. Both of which have surveillance cameras and can be monitored from the workout areas.
We currently have at least one aerobics class five days a week.
There are separate men's and women's restroom's both with lockers and showers. We also provide workout towels.
Childrens birthday parties.